Sherried Chicken and Fettucini Casserole
Marmies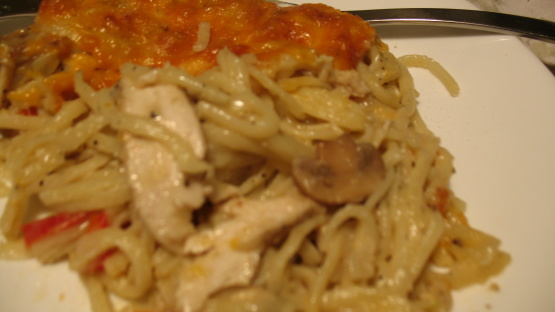 From Pasta by Katharine Blakemore Light and Healthy

My family really enjoyed this and we will definitely make it again! I used leftover chicken, diced onions from the freezer and leftover broccoli in place of the mushrooms & red pepper (neither of which I had on hand). It was so simple to make! For other conversion-challenged cooks out there, here's what the ounces in the recipe equate to (approximately):
1 oz butter = 2 Tablespoons
1.5 oz flour = 3/4 of 1/4 cup (not sure how else to describe it!)
12 oz chicken = 1.5 cups
I did add 1 T. of corn starch (mixed with cold water first) to the skillet with the vegetables and broth to help it thicken up a bit. I did not add any salt as we found it plenty salty just from the broth. Thanks for posting... looking forward to eating the leftovers tomorrow!
Cook fettucini in boiling water for 8 to 10 minutes, until still quite firm, then drain well.
Cook onion, bell pepper and mushrooms in butter until soft. Add the flour, cook for 1 minute, then add the stock, sherry, salt and pepper. Bring to a boil, stirring constantly, then cook for 2 to 3 minutes.
Mix together the pasta, chicken, cream and vegetable sauce. Pour into a shallow ovenproof casserole, sprinkle with the cheese. Cook in a preheated oven at 375 degrees for 30 to 35 minutes, or microwave 8 to 10 minutes on HIGH.
Note**** This is an ideal dish for using up the remaining of the cooked chicken. Use the chicken carcass to make the stock.
If cooking this dish in the microwave, finish off under the broiler to brown the cheese.