Sherried Chicken and Fettuccine Casserole
Prep 20 mins
Cook 40 mins
Wonderfully rich casserole. Great dish for company, serve with a simple green salad.
Directions
Preheat oven to 375.
Cook pasta in boiling water 8-10 minutes and drain well. (pasta will still be quite firm).
Heat butter in skillet and sautee onion, garlic, bell pepper and mushrooms until tender.
Add flour and cook for 1 minute.
Add sherry, broth, salt and pepper and bring to a boil.
Stirring constantly, cook 2-3 minutes.
Mix together pasta, chicken, cream and vegetable sauce.
Pour into a shallow casserole dish and top with cheese.
Bake 30 minutes or until browned and bubbly.
Most Helpful
This made a great meal with lots of veggies and not much fat. The casserole had a lot of liquid before it was put in the oven but after it was cooked the sherry cooked into the noodles, it was good! We will make this easy meal again.
This is a great casserole. I made it for 2 and used Farfalle pasta instead of fettuccine. Turned so good!!! I am always looking for recipes using cooked chicken that doesn't have a can of soup in it; and this one I would share with company anytime. Thanks so much for posting; we loved it Rita I made this again and it is sooo Good;I had to come back and tell you! Rita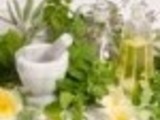 This was a fantastic weeknight dinner. I was very disappointed to see my red pepper had gone off so I had to do without, I am sure it would have only enhanced this casserole. The recipe does not state garlic as an ingredient, but lists it in the directions so I added 1 large clove minced. I did add some parsley to the sauce to make up for a little of the color it was lacking. This is a fantastic way to use leftover chicken and it will be repeated here. With some steamed broccoli it was a comforting little weeknight dinner.