PanNan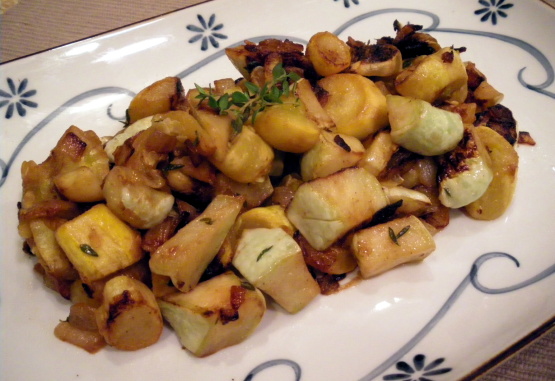 I went to the farmer's market the other day and these gorgeous baby squash were just calling my name! This is a variation on how I do everyday squash; just a little more special....
Wash and slice the squash into 1/2 inch pieces.
In a large frying pan, melt the butter over medium high heat. Add the onion and saute for 4-5 minutes, or until it is beginning to caramalize and stick to the bottom of the pan.
Deglaze the pan with the sherry, scraping up the brown bits. When the sherry has cooked down to a thick liquid, add the squash, thyme and some garlic salt. Toss to coat with butter and onions. Spread squash out over the bottom of the pan so that they can brown, about 1-2 minutes.
When one side is lightly browned, flip squash over to brown on other side. When browned, add pepper and toss. Serve hot.