Sheri's Chocolate Eclair Cake
HisPixie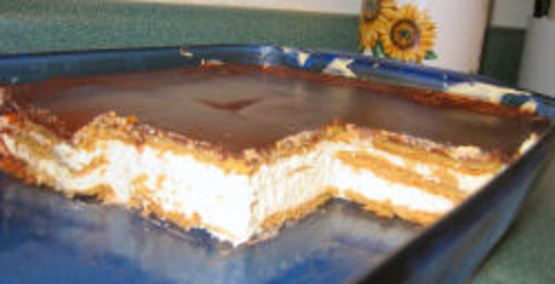 I figured this recipe would already be posted here, but it isn't. Not, at least, this exact recipe. This is very tasty. It's extremely easy to make, great for a potluck, and doesn't require baking. Plus, I usually have a surplus of graham crackers around (I have a one year old boy). Hope you enjoy!

I made this today based on a recommendation of a co-worker who had a similar recipe. I didn't want to make any chocolate frosting so I used this recipe and using a plastic tub of chocolate fudge icing melted in the microwave. This is delicious! My husband was very impressed (which makes me very happy). Next time, he wants me to try it with banana cream pudding. Yum!
Butter the bottom of a 9x13 inch pan. Line with graham crackers in a single layer.
Mix pudding and milk at medium speed for two minutes. Fold in Cool Whip. (Note: I couldn't find a 9 ounce container or Cool Whip, so I bought the larger size and estimated 9 ounces. Seems to work fine.).
Pour half the pudding mixture over crackers. Put another layer of crackers over the pudding. Pour the rest of the pudding mix over this layer. Top with one final layer of crackers.
Melt frosting in microwave (I zapped it right in the container for 1 minute, lid and label off). Pour the melted frosting over the final layer. Refrigerate for at least 8 hours.