Sherby's Cornmeal Fried Okra
Ambervim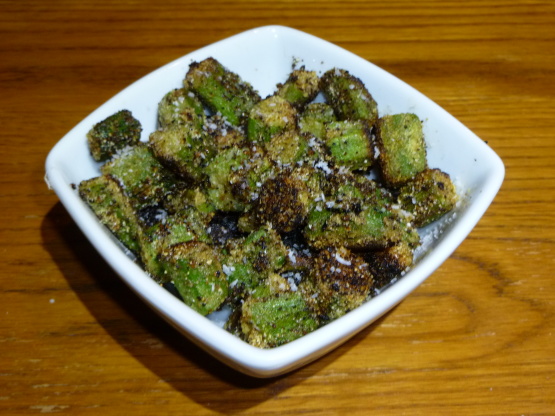 This is my daddy's recipe, if you want to call it that. It's the way that he cooks our fresh okra when we ask him to fry it. I like it much better than flour dipped okra as you seem to get more taste.

Fantastic....just like Moms! The gallon bag makes this so easy and much less messy. I used plain salt but can't wait to try with your seasoning salt recipe. I sliced the okra very thin and fried in canola oil. Thanks for posting such a great and simple recipe and thanks for tagging me in the cameraless chef game! smilynn:)
Mix your cornmeal and salt well in a gallon sized Ziploc bag.
Add okra, about 1 1/2 cups at a time.
Close bag and shake to cover okra completely with cornmeal mixture.
Fry in a cast iron skillet in vegetable or corn oil (I like corn oil best) until okra floats and turns a light brown.
Watch this carefully as once it begins to brown, it does so very quickly.
Repeat process until all okra is fried.