Shepherd's Pie with Garlic Mashed Potatoes
Hipfan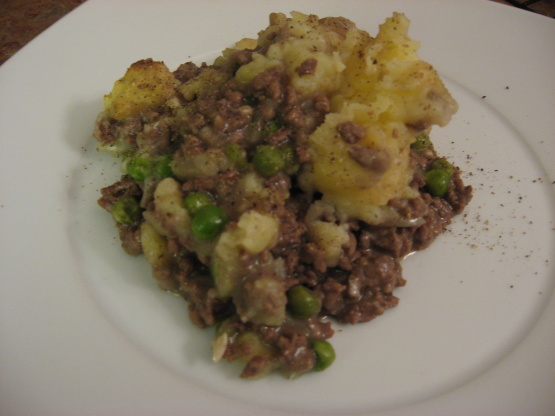 I got this out of a magazine many years ago (can't remember which one). I try different shepherd's pie recipes but always come back to this one. The prep time is merely guess work as is the number it feeds (depends on the appetite of those eating).

This was easy to make, the finished product looked nice and it tasted good. It just wasn't yummy delicious. The bottom part seemed to be lacking in flavor; the garlicky potatoes mixed in helped a bit. Maybe my family just isn't in to comfort one-dish meals that much--they're more to blame than the recipe!
In large nonstick skillet over medium heat, cook ground beef until no longer pink, breaking it up as it cooks.
Add onions and garlic; cook until softened.
Stir in flour, pepper, salt, thyme and savory.
Add broth, water, worcestershire sauce, bay leaf and carrots.
Cover loosely and simmer, stirring occasionally, for about 20 minutes or until quite thick and carrots are tender.
Stir in corn.
Add salt to taste.
Remove bay leaf.
Spread mixture in 11 x 7 baking dish.
let cool slightly.
Garlic mashed potatoes: in boiling salted water, cook potatoes with garlic until tender.
Drain well and mash.
Beat in milk, salt and pepper.
Reserve 1 tbsp.
of beaten eagg; beat remainder into potatoes.
Spread over meat mixture; brush with reserved egg.
Bake in 400 oven for 29 minutes or until bubbling.