Shepherd's Pie Quebec-style (Pate chinois)
Diana 2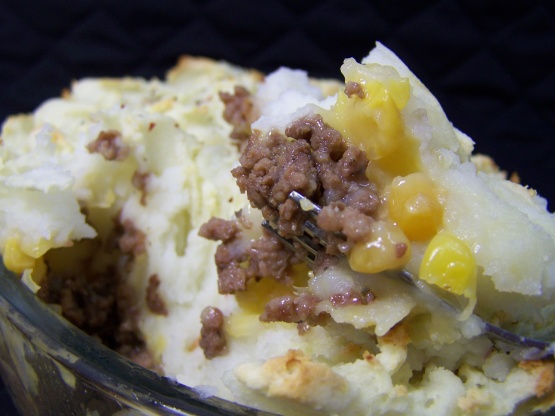 Very easy (only three ingredients!). Ingredient amounts are approximately -- it doesn't really matter how much you use, it will still turn out fine.

I found this gem of a recipe thanks to Diana #2's recommending it for the http://www.recipezaar.com/cookbook/2010-Members-Picks-Cookbook-267184. Read the review in the morning; had this on the table for dinner the same day! This is such an amazing little recipe: not only does it allow me to now make Shepherd's Pie 100% more than I've made it in the past, but it also allows you to jazz it up with scraps of things you have left over! I used a 10" round deep pie pan; layered the browned ground beef that was cooked with a shallot and 2 cloves of garlic. Used an entire can (15 oz) of creamed corn with that size pan; then used 1/2 of a 15 oz. can of drained mixed vegetables over the creamed corn. Topped it off with the mashed potoates that I had added the last scraps of sour cream and grated cheese to when mashing. In 30 minutes in the oven, I had nicely browned and bubbling dinner for four. This will be made weekly during cold weather as my husband is Scottish and grew up eating Shepherd's Pie back in the U.K. I also believe that this would be a wonderful and easy recipe to use for teaching children how to cook; it is simple and goof-proof! So glad that Diana #2 recommended this. :)
Brown ground beef.
Place in casserole dish.
Pour creamed corn on top.
Top with mashed potatoes.
Bake at 350 F for about 30 minutes.