gailanng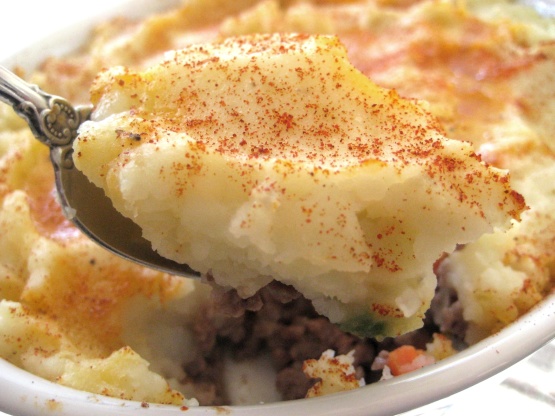 I just made my first batch of this and it smells great. I made homemade gravy and plan on freezing from-scratch mashed potatoes separately. I also think that this would be great to have on hand for when you do have leftover mashed potatoes.

It is very good--but this is a recipe for Cottage Pie--not Shepherd's Pie. Cottage pie is made with beef, Sheperds' Pie is made with lamb. Made with Lamb it is even more delicious. Happy eating
In a dutch oven or stockpot, cook the beef over medium heat.
About halfway through add the onion.
Cook until the beef is no longer pink, drain off the grease.
Microwave the carrots for 2 minutes.
Add the gravy and veggies.
Cool and put into 2 freezer containers. I put them in freezer bags.
To prepare: Thaw frozen beef mixture in the refrigerator.
Put into a greased 2 quart baking dish.
Top with mashed potatoes, melted butter and sprinkle with paprika.
Bake uncovered at 350F for 30-35 minutes or until heated through.