Shepherd's Pie (Gordon Ramsay)
aaron t.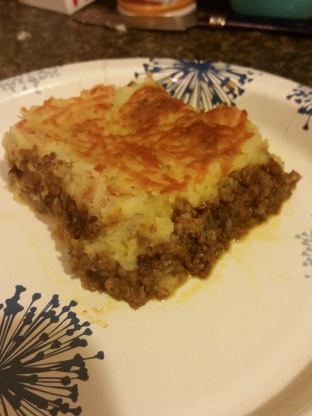 I saw this on Kitchen Nightmares and had to find the recipe. I have added corn to this before just because it has been in our other recipes. All in all it is very good and is something that has been a hit in our family.

As good as this recipe is, it is missing a few of Chef Ramsay's key ingredients. His also calls for -1 large carrot, finely grated (cooked same time as onions) -handful of thyme sprigs, leaves picked, -sprig of rosemary, needles chopped (herbs added with the tomato puree) Lastly, his recipe calls for 2 TB grated Parmesan to be mixed in with the potatoes and more sprinkled on top before baking. These few extra ingredients really make the difference.
In a large frying pan, heat the oil until hot, add half the mince (ground lamb), season with pepper and fry until well browned. With a slotted spoon, remove the meat from the pan and place in a metal colander to allow the excess fat to drain. Repeat with the second batch of mince and place in the colander.
Add the onion to the pan with the thyme and garlic and a knob of butter,and cook until soft and translucent. Add the meat and tomato purée, then sprinkle over the flour. Cook stirring constantly for 2-3 minutes to cook the flour.
Add the red wine and Worcestershire sauce and cook until the liquid has reduced to half the original volume. Add the chicken stock, bring back to the boil, then simmer for 30-40 minutes. The mixture should be thick and glossy. Allow to cool, then check the seasoning.
Mash the potato until creamy and smooth or pass through a Mouli or potato-ricer. Put into a medium-sized mixing bowl. Place the milk and butter into a small pan and heat until the butter is melted and the milk is about to boil. Pour over the potatoes and beat well, adding the egg yolks and seasoning with salt and white pepper.
Put the mince into a large baking dish, then top with the creamed potato. Use a fork to rough up the top.
Place in a preheated oven at 400°F for 30 minutes or until bubbling and golden brown in color.