Shepherd's Pie (Crock Pot)
NELady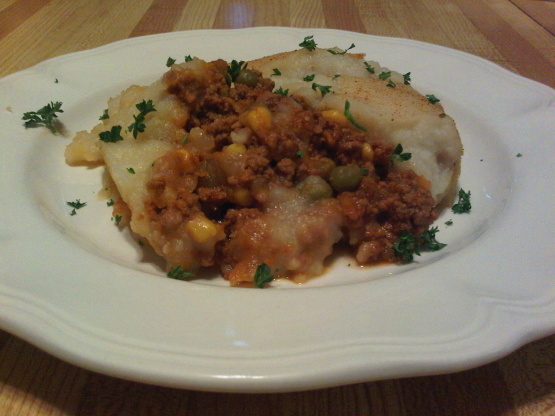 Left-over mashed potatoes make this simple, filling crock pot dish a breeze to put together in the morning (and have a tasty meal at dinner). I've included the original recipe -- which was just thrown together through experimenting with the classic ingredients -- and two variations.
Brown the meat with the onion, garlic, celery and carrots until ground beef is no longer pink; drain any fat.
Mix corn, sweet peas, salt, black pepper, tomato paste and water (fill up the 6 oz tomato paste can for measurement) into the meat mixture; stir well.
Spray the inside of the crockpot with non-stick cooking spray; pour meat mixture into the bottom of crockpot; press into the bottom of the crockpot so it is dense and even.
Spread leftover mashed potatoes (evenly) over the meat mixture.
Sprinkle the mashed potatoes with paprika (optional, for garnish).
Cook on low 6 hours (high 3 hours); then, remove the lid for 30 minutes to allow the potatoes to brown.
Sprinkle pie with fresh, chopped parsley (optional, for garnish).
VARIATION 1: CHEESY SHEPHERD'S PIE--Add 2 cups of shredded cheddar cheese to the pie by pressing the cheese over the meat mixture, and then layering the mashed potatoes on top of the cheese; Cook same length, same way.
VARIATION 2: RUNZA/CABBAGE SHEPHERD'S PIE--Substitute shredded cabbage (2 cups) for the peas and corn; cook same length, same way.