-Sylvie-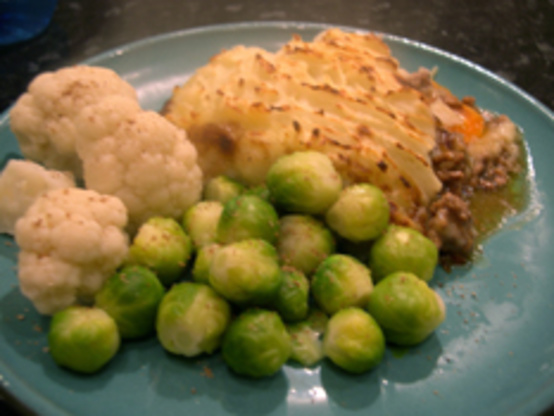 This must be cooked with lamb mince (shepherds looked after sheep = shepherds pie + lamb/ mutton mince! cottagers looked after cows = cottage pie + beef mince). This is also a great way to use up the leftover Sunday Roast if you have a mincer, as you don't have to cook the mince before it goes in the oven. I said that it takes 1 hr to prepare, but this is for uncooked mince. 10 minutes for cooked mince, just combine it in the dish and put the potatoes on top and pop it in the oven! This can either be served with salad, or hot veggies.

Great Recipe, one of my favourite foods when the days get shorter and colder! (Oct 8, 2004) *Update* This recipe frrezes well, either the left overs or after having assembled everything before baking it in the oven. To reheat, remove from freezer and defrost. Bake in preheated oven until heated through, approx 35-45 minutes.
Brown the lamb mince, and then add the onions and carrots.
Boil the potatoes.
Combine the lamb, gravy and Worcestershire sauce in a tall round pie dish.
When the potatoes are cooked, mash them with butter and a small amount of milk and cover the top of the pie dish with the potato.
Scrape the top with a fork to create lines across the top (this makes the potatoes lovely and crusty).
Cook in the oven for 20- 30 minutes.