Derf2440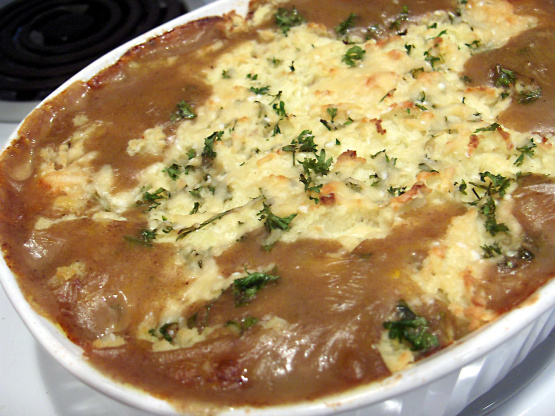 Great old Irish stand-by... Additional Information: You can also make a "bottom crust" of mashed potatoes too (look for recipe).

We loved this shepard's pie! Wonderful flavour! I had no celery in so I added some frozen peas and a few lima beans, other than that followed the recipe exactly except for the butter on top of the potatoes, instead I sprinkled shreaded parmesan and chopped parsley on top. Will definately be making this again, thanks for posting.
Cook ground beef in frying pan until brown. Add onion, carrots, celery, garlic, salt, pepper and nutmeg.
Lower heat and cook for 10 minutes or until vegetables are wilted. Add beef broth and bring to a boil.
Stir in enough of the butter/flour roux to make a thick gravy to bind the filling. Pour into large shallow baking pan and cool. The filling should be about 1-1/2 inches deep.
Cover the meat mixture in the pan with the corn and then top with the hot mashed potatoes. Smooth potatoes evenly, brush surface with butter. Bake at 325°F for 35-40 minutes.