Rita1652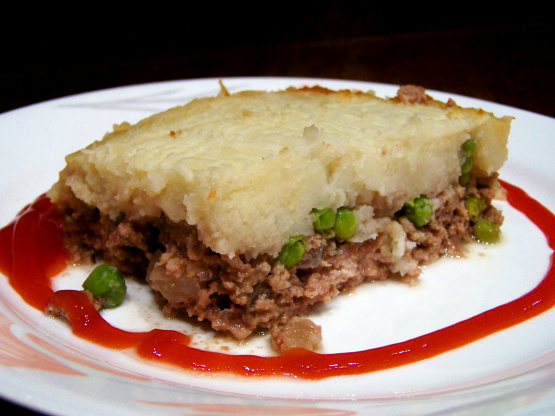 I have other shepherd's pie recipes but the lamb in this one makes it Australian. You can add a layer of 2 cups frozen peas, carrots or corn over the meat mixture.

Not really sure how the lamb makes this Australian (what else would you make a SHEPHERD's pie with?) but it is a great recipe just the same. The layer of corn between the meat and potato is genius.
Grease an 8-cup capacity casserole dish. Preheat oven to 210°C (425°F).
Melt butter in a large pan, add onions and cook until golden brown add garlic and cook 1 minute. Add flour and mustard to the pan and stir for 1 minute, gradually add the stock and stir constantly until smooth. Bring to the boil and then reduce heat and simmer for 3 minutes. Add the meat, Worcestershire sauce and oregano to the pan and stir. Season to taste, remove from heat and spoon into the casserole dish.
To make potato topping, combine all remaining ingredients, mix until smooth and creamy. Spread the mixture evenly over the meat and rough up the surface with a fork. Spray lightly with olive oil spray or dot with additional butter. Bake for 45 minutes.