This is an easy ricotta and pasta side dish from Italy. Easily doubled to serve more!
Directions
In a small saucepan combine ricotta, milk, parsley, salt and pepper.
Cook and stir about 3 minutes or until heated through.
Toss ricotta mixture and parmesan with pasta until coated.
Serve immediately.
Most Helpful
This was a very easy, simpoe side dish. I served it with Ranch Chicken Thighs #42603 and salad. Thanks for posting!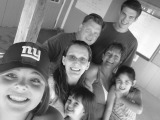 Quick, simple and yummy! I loved the creamy texture and mild flavor. I did add a pinch of garlic, but otherwise made this as written (using reduced-fat dairy products). I'm sure you could easily toss some broccoli in this for a nice meatless maindish or side dish. I'll use this recipe again. Thanx!

Both my girls loved this. It was quick, simple and tasty. Thanks Charmie.