Shelly's Mother's Delightful Salad...and One of Winkki's Loves
Ms B.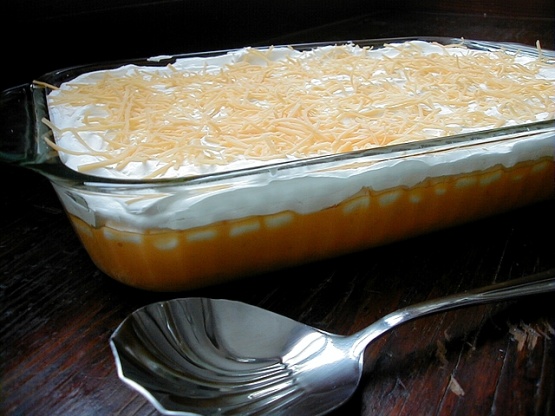 I adopted this recipe after my friend, Shelly, left the site. She is very proud of this recipe and swears that the shredded cheddar MAKES the salad. Our dear friend, winkki, is also fond of this and claims that it is the only jello salad that she will eat because she remembers her grandmother making it. May jello live on for all of us! Shelly's original comments are: "I make fun of jello molds but this is NOT a jello mold! It is a little weird but my mother makes this every year around the holidays and I love it. Sorry the amounts are kinda vague. Hope they suffice. It's kinda like a big bowl of dreamsicle! (sorta) Cook time includes my minimal chill time. So good! Also, I'm sure you can probably use INSTANT vanilla pudding but my dear mother to this day always uses the kind ya have to cook. Go figure."

Very good. Refreshing and creamy fruit that is very easy to make and quite tasty. I'm not sure I would use the cheese again though, as it just seemed out of place to me. This is a real kid pleaser. I served it as both a fruit salad to accompany dinner and it could also be scooped into goblets to serve as a light dessert.
Cook 1 box of vanilla pudding according to package directions and allow to cool.
Mix together 2 boxes of orange jello with 1 cup hot water and allow to cool.
Mix together crushed pineapple (don't drain), marshmallows and sliced bananas.
Add pudding and jello mixture and stir well.
Place Cool Whip on Top (to taste).
Place shredded cheddar cheese on top (to taste).