Shellbell's Easy Pumpkin Bread
LizAnn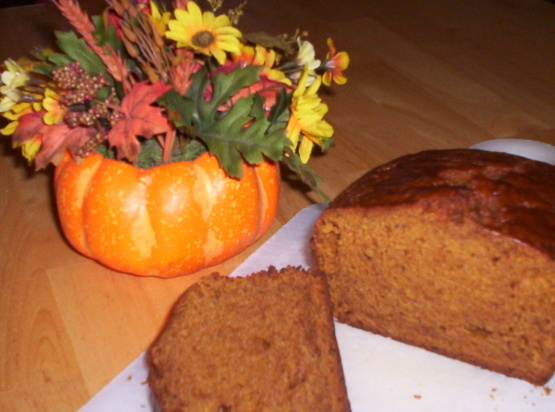 This is my sister in law's recipe and it is great. I think she may have gotten it from a co-worker, butI am not sure. It is a really nice change -a bit more dense than my Pumpkin bread recipe, but it depends on what you are craving at the time! Yummy!!

The first time I made this bread (in 3 disposable loaf pans) I found that it rose beautifully and was tasty. I don't know why, but even though I used pumpkin puree, I didn't think it had a real "pumpkin-y" taste. I made it again, using 1/2 C ea. applesauce and oil rather than 1 C oil, and increased cinnamon to 2 tsp. In my opinion, this very nice recipe had a bit more flavor this way. (Made for March Beverage Tag Game.)
Combine all ingredients together in a large bowl, mix well.
Pour into 3 greased and floured loaf pans.
Bake at 350 degrees foer 1 hour.
Bread in done when a wooden toothpick inserted in the center of loaf comes out clean.
Cool completely.
Frost with a nice cream cheese frosting and sprinkle with chopped walnuts.
Enjoy.