Sheila's Supremely Simple Shrimp Scampi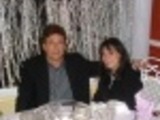 I know, I know...there are a million recipes on here for Shrimp Scampi. Why should you try this one? Because it is so easy. There is no chopping garlic, etc. It comes out the same (perfect) every time, and is always a big hit, (although I would say it is not for the diet-conscious). I have been making scampi this way for almost 25 years, and while I have saved many other scampi recipes and am willing to try them, I just can't get past this one! I generally serve this with rice pilaf or linguine.
Directions
Preheat oven to 400 degrees.
In large ovenproof skillet or heatproof serving dish, melt butter; add oil, half the parsley, the garlic powder, salt, cayenne and lemon juice; mix well.
Add shrimp, tossing gently with butter mixture until well coated; arrange in skillet or dish in a single layer.
Bake 8 to 10 minutes, or just until pink and tender. Sprinkle with remainder of chopped parsley. Garnish with lemon wedges.
Most Helpful
Fantastic shrimp dish. My husband and teens made dinner tonight and this was quite an impressive dish. We did not have fresh parsley, but dried worked fine (fresh would be excellent, of course). Flavor was terrific. They made rice, roasted asparagus and toast to accompany the shrimp. Great! We'll do it again!
My little girl LOVED this and so did my DH. He thought it was restaurant quality all the way. This is a big compliment coming from him- he works at Trump Taj Mahal and eats in the restaurants there all the time so he is very spoiled. I made it exactly as written and when I got to the 1 tablespoon of garlic powder I said "Jackie oh no!" and thought to myself "is this why she uses that name?" I love garlic but even I thought that was a lot. So I went ahead and used the whole tablespoon anyway cause I figured you know what you're doing here and it was the perfect amount. Overall, the seasonings were perfectly balanced and I wouldn't change a thing. I served this over thin spaghetti with romano cheese for them to sprinkle on their plates at the table. It looked beautiful on the plate. Thanks Jackie for posting your perfect version of one of our favs. Made for Pick a Chef Spring 2009.