Sheila's Irish Cream Liqueur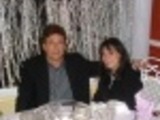 Everybody seems to have a recipe for this, but this is the one I have always fallen back on. It is great to bring as a gift when invited to someone's home for dinner, or equally as great to enjoy at home. If not being used within 24 hours, it should be frozen for later use.
Directions
Combine all ingredients in blender.
Blend on high until well mixed and foamy.
Serve (or freeze for later use).
Reviews
Most Helpful
Yes!!! I loved it when I made it, and love it even more a few days later! This was amazingly simple to make and tastes just as good as the "real thing". Thanks for posting and making my morning coffee time that much better! Made for Culinary Quest.

Good and potent, too! This was a snap to prepare and tasted a lot like Baileys Irish Cream for a fraction of the price. Thank you for posting! Made for ZWT8 Pub Crawl Challenge GB region.