Sheila's Can't-Fail Fudge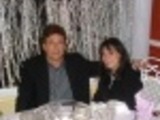 This is the ONLY fudge recipe that I make, which everyone looks forward to around the holidays. My niece Alisa saves her empty container from the year before and brings it to me for her annual refill. She loves to help make this, and it is so easy, even a child can do it! I personally prefer walnuts in my fudge, but it's great either way. It makes a nice gift when presented in a holiday tin. Note: Make only one recipe at a time - do not double!
Directions
Combine evaporated milk, sugar, and salt. Boil for 5 minutes, stirring constantly. Remove from heat.
Add chocolate chips and marshmallows, and stir until melted. Then stir in the vanilla (and add nuts, if using).
Spoon fudge into a greased 8x8x2-inch square pan. Smooth out with spatula. Refrigerate until cool, then cut into squares.
Reviews
Most Helpful
My 14yr old daughter made this for dessert. It was very sweet but tasty. I would reduce the sugar a bit. Made for Newest Zaar Tag

I hadn't made fudge since I was a child and for some reason I had it in my head that it was much more complicated than it turned out to be. This was super easy and produced a very rich and tasty fudge. The sort of sweet taste where a little goes a long way but you sure enjoy that little bit. I used reduced fat evaporated milk which worked fine and I did half the batch with nuts and half not. Made for PAC fall 2009.