Rita1652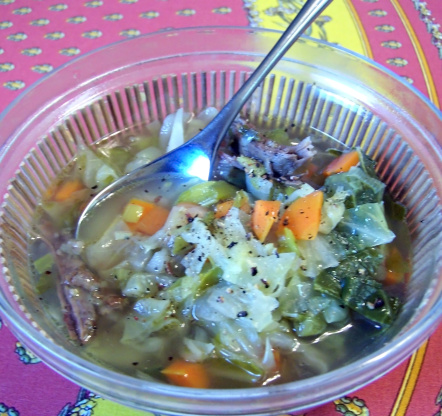 With cabbage time here, I have a hankering for this soup. It comes from Dave Patrick, a larger than life radio personality in Montreal many years ago, who used to share his recipes during his show. I like to get a crusty loaf and make this an 'all-in-one-meal'.....great on a cool autumn night. Note: Edited 10/06...The last time I made this, I found it a tad short on flavour, so maybe all or part of the water should be changed to chicken broth.

This is a wonderful, warming, comforting soup for those cold days of winter. An inexpensive, tasty, healthy meal. I used all the ingredients but chopped and sliced the veggies to my preferences and didn`t measure a thing! I did saute the onions, leeks, celery, carrots and my addition of garlic in the butter then added to the meat and topped with spices, cabbage covered with water and simmered till we couldn`t wait no more! Thanks!
Simmer beef shanks in water (see note)with bay leaf, salt and pepper for 2 1/2 to 3 hours. At the same time brown onion in fry pan, then simmer along with meat.
Add remaining ingredients and simmer 15-30 minutes longer.