Prep 15 mins
Cook 1 hr 20 mins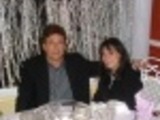 This is a recipe I have been making for over 20 years. Even though I like to try new banana bread recipes, I find myself frequently returning to this one.
Directions
Preheat oven to 350 degrees.
Grease and flour a 9x5x3-inch loaf pan. Combine flour, baking powder, baking soda, and salt in a medium bowl.
Beat together butter and sugar in another medium bowl until light in color. Beat in eggs, one at a time. Stir in vanilla.
Stir in flour mixture alternately with bananas and milk. Stir in 3/4 cup of nuts. Pour in prepared pan.
Bake for 1 hour and 10 minutes or until wooden pick inserted comes out clean. Cool on rack for about 10 minutes. Run thin knife around edges. Remove bread from pan to rack to cool. Bread is better next day. Wrap tightly and store at room temperature.
Reviews
Most Helpful
I made this recipe gluten-free by using Red Mill Gluten-free Flour and Clabber Girl Baking Powder. It took one hour to bake in my oven. The end result was a lovely loaf with great banana taste and a great texture. Thanks for sharing. Made for ZWT7-Pacific Islands.
This is a lovely moist banana bread! My bananas were pretty big so this had a really great flavor. I baked mine for 1 hr 15 minutes and got a huge loaf of yummy bread - thanks for sharing the recipe!

Made as per recipe using 3 very ripe bananas and chopped pecans. The bread was done in about 50 minutes. The timing may be due to variances in altitude and ovens. It was allowed to cool and then sliced. It sliced well without being overly crumbly. Thanks for another great banana bread recipe. Made for Vivacious Violets during ZWT #7.