Sheepy Cookies (Or Sugar Cookie Dough to Shape As You Wish)
1008916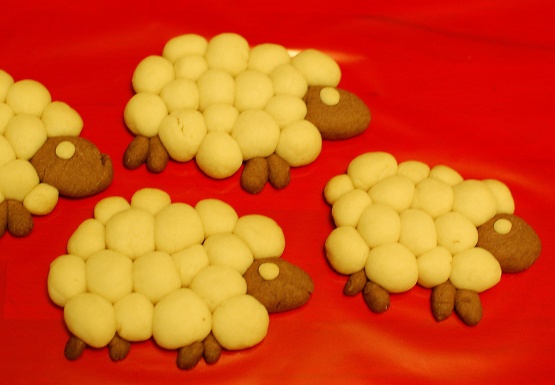 You don't have to make sheep. You can make this moldable sugar cookie dough into anything you can imagaine. But the sheep are sooooo cute, cute, cute, cute, cute. Recipe from Land O' Lakes Butter.

VERY cute! Very tasty! Very time consuming! Made these for a neighbor who had a baby. Followed the recipe exactly. Make sure you make small balls because the batter spreds.
Cream butter and sugar.
Add egg, vanilla, and almond extract.
Add sifted dry ingredients.
Remove 1/3 cup dough and tint it by stirring in a tablespoon or two of cocoa powder.
Refrigerate at least an hour to make dough easier to handle.
Form the dough into desired shapes.
Bake at 325 degrees on an ungreased cookie sheet for 12 to 16 minutes or until edges are lightly browned.
To Make Sheep:.
Shape dough into little balls from 1/8 inch to 1/2 inch.
Arrange white dough in ovals about 2 1/2 inches by 1 1/2 inches - as a wooly sheep.
Roll four little chocolate dough balls between your fingers to form legs and attach.
Form 1/2 inch chocolate ovals for heads. Add a bit of white dough for an eye.