Shawrbat 'adas Maa Banadoura (Lentil and Tomato Soup)
JustJanS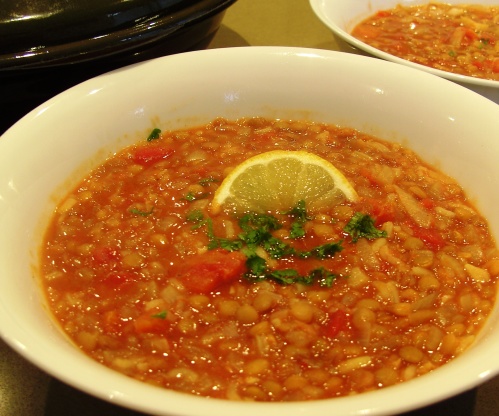 I found this at a vegetarian Middle eastern recipe site & it was different enough to submit for my own NA*ME cookbook.

I love this recipe but I make this more like a stew as a complete meal than as a soup. I add three diced carrots, three stalks of celery, and two potatoes, red split lentils (no need to soak) and brown rice. Plus a tsp of cayenne, and sometimes I don't bother with the lemon. It is my favourite winter dish and so handy because I can bring it to work and rest assured that I am actually eating some protein!
Place lentils and water in a saucepan and bring to boil. Cover and cook over medium heat for 25 minutes.
In the meantime, in a frying pan, heat oil and sauté onions and garlic until they turn golden brown. Stir in remaining ingredients, except lemon juice, and sauté for another 5 minutes.
Stir the frying pan contents into the lentils and bring to boil. Cover and cook over low heat for 20 minutes or until rice and lentils are well-cooked. Stir in lemon juice and serve hot.