Shawarma Spiced Shepherds Cottage Pie
rpgaymer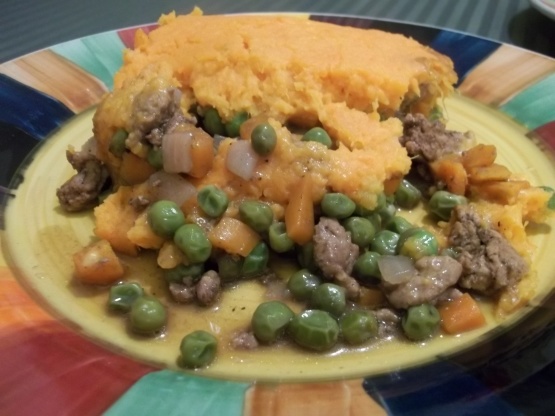 I got this recipe from a local hole in the wall Lebanese restaurant and tweaked it a bit. Best of both the sweet and savory worlds. As a time saver I keep a jar of this spice blend (Shawarma spice blend) on hand and just measure out 2 1/2 tsp of the combined mixture in order to make this recipe. For the frozen vegetables I use a combo of corn, peas, green beans and carrots.

Great take on the standard Shepard's Pie. Doubled the meat and the spices.
Peel and quarter potatoes, boil until tender.
while potatoes are boiling, brown ground meat until no longer pink.
Add onion, seasonings, beef broth and worcestershire;simmer over low heat for 10 minutes or until onions are crisp tender.
Remove meat from heat and stir in frozen vegetables. Set aside.
Mash potatoes in bowl with butter, add milk to taste.
Place beef & veg in 9x11 casserole dish. Top with shredded cheddar.
Spread mashed potatoes on top. Use a fork to make peaks in the potatoes if you wish.
Bake uncovered in 400 degree F oven until bubbling and brown. (about 40 minutes).