Sharon's Creamy Chile Chicken
Brenda.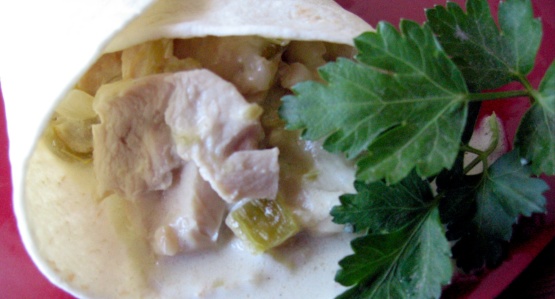 This is just dreamy creamy ... thanks Sharon G!!

This was very easy and good. I took Bev's advice and sliced my chicken thin so I could roll it up in the tortilla. I thought it needed a little something else, but I can't quite put my finger on it. Overall a good weeknight recipe. Thanks for sharing. Nick's Mom
Cook chicken in butter. Set aside, keeping warm.
Cook onion and garlic in drippings. Stir in cream, scraping up bits in pan. Mix in chilies. Simmer to slightly thicken.
Return chicken to pan, turning in sauce.
Sprinkle chicken with cheese (cover).
Continue cooking on low until cheese is melted.
Serve on tortillas, topped with sauce.