Shannon's Bread & Butter Pickles
marisk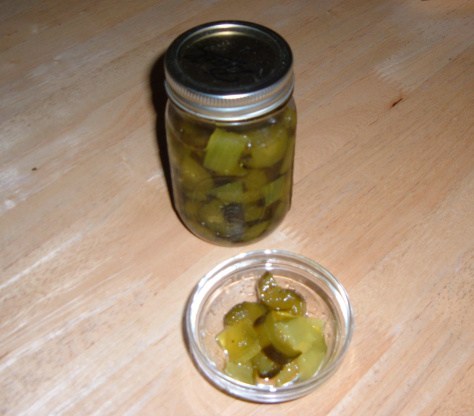 This is a recipe that Shannon's grandmother passed down to her. I was priviledged to meet this gracious, very lively lady this past Christmas. Shannon packs these in pint size mason jars to give as Christmas presents ... which I thoroughly enjoy receiving (and eating) :D
Cut cucumbers and onions and place in large bowl. [Cucumber: cut in 1/4 inch rounds, then cut each round into quarters (4 piecs). Onions should be cut to about the same size.].
Add enough water to just cover. Add salt. Soak for 1 hour; then drain.
Bring to boil vinegar, sugar, turmeric, and celery seeds to boil.
Add cucumbers and onions to liquid. Cook until cucumbers change color. (Sorry, the recipe doesn't say how long this takes. I'm guessing 15 minutes; I may be way off.).
Place in mason jars while still hot to seal.