Shanna's Favorite Chicken Kiev'
luvmybge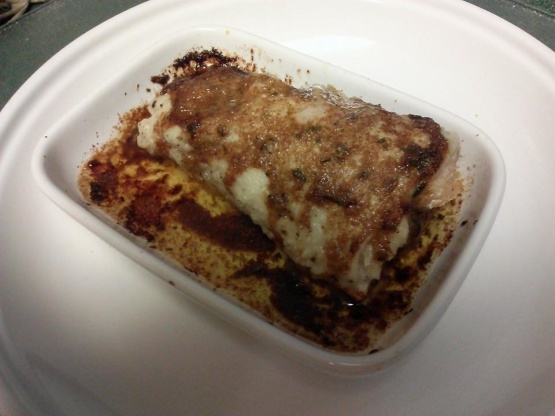 My Daughter Shanna loves this recipe.

This was very good... just too salty. I even used low sodium soy sauce. I'm a salt lover... but this is just too much salt for my taste and I carry a salt shaker in my bag with me. I used salted butter for this. The Recipe doesn't say use unsalted. .. or salted. Maybe it's my fault. It says butter... so I used real salted butter. I pounded the breast and then used a Jaccard on it... then dusted and filled with butter... rolled... dusted again because the flour seemed to be not enough after I had rolled it. I think this recipe has potential... I love trying new recipes. Thanks!
MAKE SEASONED BUTTER: In a medium sized bowl, mix butter (room temperature), garlic powder, and parsley. Slowly add the soy sauce to incorporate. place in the fridge to firm up a bit while you prep the chicken.
PREPARE CHICKEN: Preheat oven to 350 degrees Fahrenheit. Place one chicken breast between two sheets of plastic wrap. Using a mallet, flatten to an even thickness of about 1/2". Repeat with remaining breasts. (NOTE: If desired, once you pound the breast out flat, you can cut it in half lengthwise to make smaller serving sizes).
(Do for each piece) Dredge chicken breast in flour and place it on the counter smooth side down. Take 1/8 of the butter and roll it in a log shape the width of a breast.
Place the butter log on one end of the breast. Dust with a little more flour. Roll the breast up, securing with a toothpick if needed. Take another 1/8 of the butter and spread over top.
Place in baking dish. Continue with the other 3 breasts. Bake for 35 to 40 minutes.