Shanghai Tofu and Peanut Salad
Bergy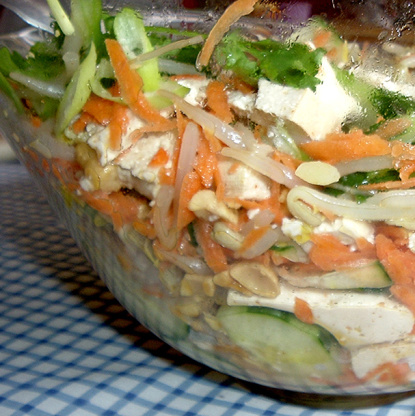 This is one of my favorite recipes from the Sunset Favorite Recipes II cookbook. Prep time does not include the tofu marinading time.

This is SO delicious! I added a cup and a half of brown rice to make it a little more substantial. My husband thinks this is the best thing he has EVER eaten. Seriously, he said if he found it at a restaurant, he'd go there every day.
Cut tofu crosswise into 1-inch thick slices.
Let drain in a colander for 15 minutes, then place between paper towels and gently press out excess water.
Place tofu on a rack in a shallow rimmed baking pan and brush all surfaces with oil.
Bake in a 350° oven for 20 minutes.
Let cool, then cut into 1/4 by 1/4 by 1 inch strips.
Prepare Sesame Dressing and add tofu, stirring gently to coat.
Cover and refrigerate for 30 minutes or up to 24 hours.
Meanwhile, fill a 24-quart pan half-full with water.
Bring to a boil over high heat.
Add bean sprouts and cook for 10 seconds; then drain, rinse under cold water, and drain again.
Cover and refrigerate.
Peel cucumber, if desired, and cut in half lengthwise.
Scoop out and discard seeds, if large, and slice thinly; cover and refrigerate.
Just before serving, combine tofu and dressing, bean sprouts, cucumber, 2/3 C.
of the carrots, thinly sliced onions, and nuts in a large salad bowl; toss gently.
Garnish with remaining carrots, coriander, and diagonally sliced onions.
Sesame Dressing: Combine dressing ingredients and mix well.