Shanghai Spring Rolls (Or Egg Rolls)
Catnip46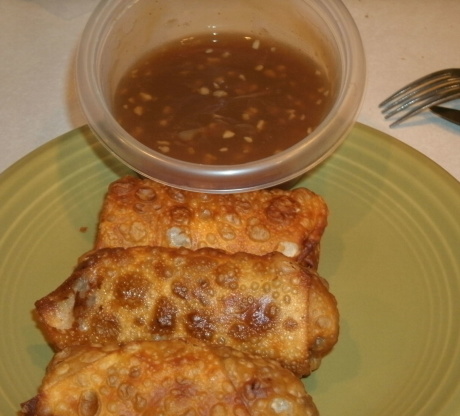 When I had my restaurant my customers said these were the best they ever had. The recipe is adapted from "The Chinese Menu Cookbook" by Joanne Hush and Peter Wong. In case anyone is interested, the difference between an egg roll and a spring roll is the wrapper. Spring rolls use a very light, delicate wrapper that requires a lot of care to keep from getting holes poked in it. Egg roll wrappers are an egg noodle dough, exactly the same as wonton wrappers but larger in size. This filling can be used with either. The secret is to squeeze out the moisture after cooling so it doesn't soak through the wrapper during deep frying. They should be deep fried at relatively cool temperature (325° - 350°F) until about half cooked. Then either refrigerate or freeze until ready to serve. Finish the deep frying at 375; this double process insures a well cooked, hot inside with a golden brown crispy outside. (Defrost if frozen). Warning: use only raw pork, chicken and shrimp or you will be very disappointed with the results. It's tempting to buy cooked TT shrimp but resist the temptation!

This is one of the worst-written recipes I have ever made and, as such, barely merits the 5 stars I am giving it – I was tempted to give it a 3- or 4-star rating. The sauce ingredients are very confusing – in fact I had to throw out the first sauce I made because I assumed from reading the ingredients that it was supposed to include the sesame oil and cornstarch. There is no quantity listed for the cornstarch or for the eggs. I guessed at 2 teaspoons cornstarch and got plain lucky because that worked out ok, but I guessed at 2 beaten eggs (eggs IS plural, after all) and had WAY too much – ONE egg would have been more than enough. In the directions, I took a blind guess at what "2 T" oil meant (not all of us are from the U.S. and understand your funky abbreviations). I also took a complete blind guess at what was meant by "Chinese mushrooms" (I assume there is more than ONE variety of Chinese mushroom) and used Shitake mushrooms, and they worked out very well. The recipe's saving grace was the second-to-none taste of the final product – better than any egg rolls I have ever had in a Chinese restaurant or from the grocer's freezer. I should also mention that, using the exact quantities of the ingredients listed, the recipe made 20 egg rolls (and no, they were NOT small egg rolls) and not the 12 to 14 that the provided information suggests. All in all, it's a superb recipe, but is not at all conducive to the novice chef nor to non-abbreviation-speaking Scotsmen.
Filling

1⁄4 lb raw pork, shredded

1

raw chicken breast half, shredded
1⁄2 lb raw small shrimp or 1⁄2 lb shrimp, cut into small pieces
1⁄2 head cabbage, shredded

8 -10

dried Chinese mushrooms, soak in boiling water, stems removed & shredded

3

scallions, shredded

Sauce

1⁄3 cup chicken stock
1⁄2 tablespoon salt (to taste)

3

tablespoons dry sherry

1

tablespoon sugar
vegetable oil, to stir fry and deep fry
cornstarch, mixed with water to use as binder

1

tablespoon sesame oil
beaten egg
egg roll wraps or egg roll wrap
Use the highest flame for the stir frying process.
Stir fry pork in 2 T oil until no longer pink; add chicken& do the same thing.
Follow with shrimp.
Remove to a sieve.
Add a little more oil to the wok if needed and stir fry the scallions for a few seconds, then add the mushrooms& cabbage; stir fry to wilt cabbage, 2- 3 minutes.
Stir in sauce.
When it boils, thicken it with the binder.
Stir cooked meats back in, followed by sesame oil.
Set aside to drain and cool.
Assemble in skins using beaten egg to seal.
Deep fry at about 325°F until half cooked.
(Can be frozen at this point. Defrost before continuing).
When ready to serve, deep fry at 375 until golden brown and crisp.
Blot well on paper towels.