Shanghai Pasta (With Shrimp and Sweet Bell Peppers)
Rita1652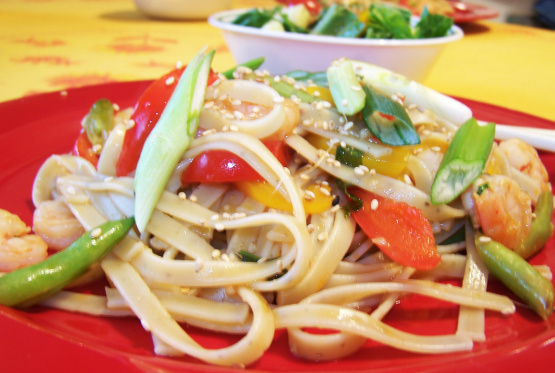 I really love this dish and hope you enjoy it too. The red and yellow sweet peppers, along with the bright green beans, combine for a very pretty presentation. Credit goes to Gene Lee, who first submitted this recipe to Family Circle. I modified it a bit to my tastes.

Top Review by ellie_
Very good and easy dish which my family enjoyed! The changes I made was using 1 whole red bell pepper (instead of two halves), used whole wheat fettuccine and since I didn't have any fresh ginger I sprinkled in some dried ginger. I also added the green onions in with the pasta so they cooked a little bit. Delicious and easy too! Thanks for sharing!
MAIN DISH

226.79

g dried fettuccine pasta (or other type such as Linguine, Fusilli, etc.)

1

medium red bell pepper, seeds and ribs removed, thinly sliced

1

medium yellow bell pepper, seeds and ribs removed, thinly sliced

236.59

ml green beans, the slender kind, cut in half (or you may substitute 1 cup pea pods)

29.58

ml cooking oil

340.19

g frozen large shrimp, without tails (peeled, deveined and thawed, 26 to 30 shrimp per pound count)

2

garlic cloves, minced

4.92

ml grated fresh ginger (or you may substitute 1/2 tsp. ginger root powder)

1.23

ml ground black pepper

SAUCE

44.37

ml soy sauce

14.79

ml bottled plum sauce

4.92

ml toasted sesame oil

2.46

ml red chili paste (optional)

GARNISH

2

green onions, sliced thin

14.79

ml sesame seeds, toasted
Mix ingredients for the sauce (listed above) and set aside.
Cook pasta according to package directions. Drain and keep warm.
In a large skillet or wok, cook and stir green beans and sweet peppers in hot oil for five minutes. Push veggies to the side if using a wok. Otherwise pour them in with the pasta to free up the skillet.
Add a little oil to the skillet if needed, to continue. Add the garlic, ginger, and black pepper. When oil is hot, add the shrimp and cook over medium heat for 2-3 minutes or until they are opaque.
Add sauce to skillet. (If substituting pea pods for green beans, add them now too).
Finally, add pasta, green beans and sweet peppers back into the skillet and heat through.
To serve, top with sesame seeds and green onions.