Lvs2Cook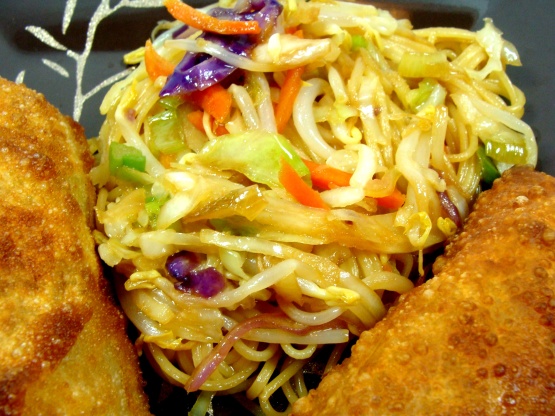 Wonderful oriental side-dish. So quick and easy! I serve this with chicken or pork tenderloin marinated in Teriyaki sauce (recipe 44750). Or you can add meat to the dish for a one-dish meal.

Nice Recipe, but I did make a few changes. I did use shanghai noodles, as they are very very good. I got mine at a local specialty market. I had them before and they are worth getting them if u can. I used less oil, 3 tablespoons was a bit much for me, I added fish sauce and some hoisin, more scallions and cabbage. I felt there were too many noodles compared to the cabbage and onions. And also added water chestnuts for some crunch. Fresh sprouts vs canned really made a difference and adding the chicken is a nice touch. I marinated mine in soy, sesame oil, and a little red chili paste for some heat and sauteed it prior to adding the cabbage and scallions. I know a few changes, but it is a great dish, I just needed more flavor and personally, more veggies to offset the ratio of pasta and vegetables. We did enjoy it and I really enjoyed the chicken in it.
Cook pasta according to package directions;drain.
Heat oil and sesame oil in skillet.
Saute cabbage and green onion for about 5 minutes.
Add pasta and soy sauce (also chicken and/or bean sprouts if desired) and heat through.