Bergy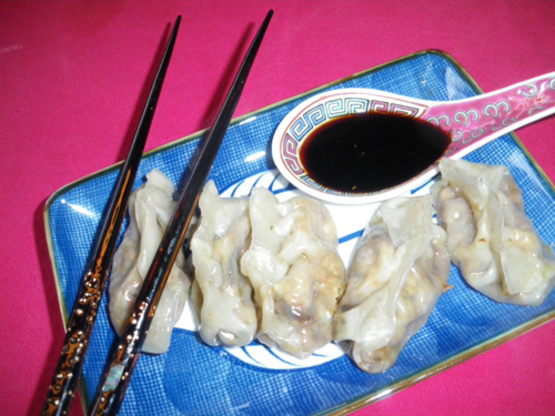 This recipe has never seen Shanghai but the wrappers have! This is a steamed dumpling with healthy, spicy ingredients. It is quite spicy so if you don't like anything too hot cut back on the Jalapeno & Chilie flakes. I like to serve these dumplings with Asian sweet chili sauce or with a simple soy dipping sauce. One very easy dipping sauce is 2 tbsp Soy sauce, 1 tbsp rice vinegar and 1 tsp grated fresh ginger. You do not cook this sauce just let it sit for an hour or so before serving. The wrappers are available in many super markets and for sure available in Asian markets They come in a 1 pound package in two separate sections and You only need 1 section for this recipe. Freeze the other half. Your dumplings can also be frozen and steamed directly from the feezer -they just take a couple of minutes longer. For quick preparation use your mini chopper.The wrappers are apprx a 4" circle The main difference between Shanghai Dumpling wrappers and Wonton wrapper is the flour. Dumpling wrappers are made from Rice flour Wonton wrappers ordinary flour. The dumpling wrapper becomes almost transparent when steamed. For additional zesty flavor add 1 tbsp fresh grated ginger to the filling

It all worked as described, but I really missed the ingredient of ginger in these dumplings: personal preference, probably! Having it in the dipping sauce was helpful. The flavors blend nicely, and I liked the extra kick from the jalapeno.
1⁄2 lb dumpling wrappers, shanghai style (36 wrappers)

2

chicken thighs, skinless, Boneless, minced

5

roasted garlic cloves, minced

8

button mushrooms, minced

3

tablespoons sweet onions, minced

1

jalapeno pepper, seeded, membrane removed, minced

2

green onions, green & white, minced
1⁄2 teaspoon chili flakes

1

teaspoon smoked paprika, hot

4

tablespoons dry sherry

5

tablespoons teriyaki sauce
In a lightly sprayed skillet mix all the ingredients except the wrappers,.
Mix well.
Over medium heat cook until hot through (apprx) 10 minutes.
Cool.
Place a slightly heaped tsp of the mixture in the center of each wrapper.
With a Q tip moisten the edge of the wrapper all around with water.
Bring the center of the circle together over the mixture and pull in the edges so you form a small purse. Make sure you have sealed them well.
Spray your steamer with Pam or other oil as the dumplings may, otherwise tend to stick.
Steam for apprx 12-15 minutes until the wrapper has an almost translucent appearance and the filling is hot.
Serve with either a simple soy sauce or the spicy Asian sweet chili sauce.