ChefLee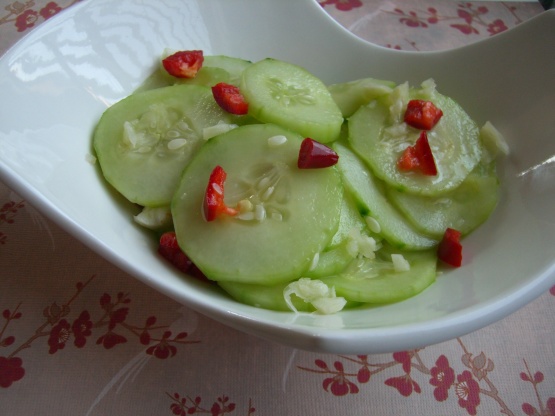 I was looking for a copycat recipe of the Shanghai Cucumbers that you can get at PF Chang's and I ran across this one on another website. I hope it's close!

Great recipe. I subbed out half a head of cabbage for the cukes recently. I basically tripled all the ingredients and ended up with a spicy Asian slaw. It was delicious.
Finely slice cucumbers into thin slices.
Add the salt, vinegar and sugar to the cucumbers. Mix together thoroughly with your fingers. This will "marinate" the cucumbers.
Mince the garlic and chili padi and add to the cucumbers.
Add 1-2 teaspoons of sesame oil.
Taste the cucumbers frequently as you make it and add more of each ingredient. If you want it spicy, add more minced chili padi. If the garlic taste is too strong, put less garlic in there. The salt and vinegar acids help the cucumber to absorb the flavors of garlic, chili and sesame oil.
Once you're satisfied with the taste, chill in the fridge before serving.