Annacia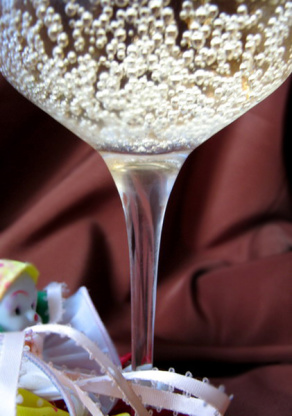 Perfect as a party drink, mock champagne is also nice around the holidays for those not wishing to imbibe too much alcohol. Use diet ginger ale to cut calories without cutting flavor. Make sure everything is chilled before you start. For a festive look, add a maraschino cherry to each glass. From Pop It, Stir It, Fix It, Serve It

So lovely! I don't know how closely this resembles the real stuff, since I'm allergic to alcohol and therefore can't say from experience, but it really is tasty and bubbly and just perfect. Like Annacia, I used diet ginger ale, and used apple juice since I'm also allergic to grapes (I suspect the grape juice would bring the flavor closer to an authentic champagne taste, however). I will remember this and make it often for special events. A glass of this wonderful "mock-tail" raised tonight in memory of KelBel's husband, Eric. God Bless!
2

cups soda water, chilled

2

cups ginger ale, chilled
1 1⁄2 cups unsweetened white grape juice or 1 1⁄2 cups apple juice, chilled
Combine ingredients in a pitcher and serve in champagne glasses.
(This recipe is easily doubled or tripled for large groups.).