Shallow-Fry Buttermilk Pecan Chicken
alligirl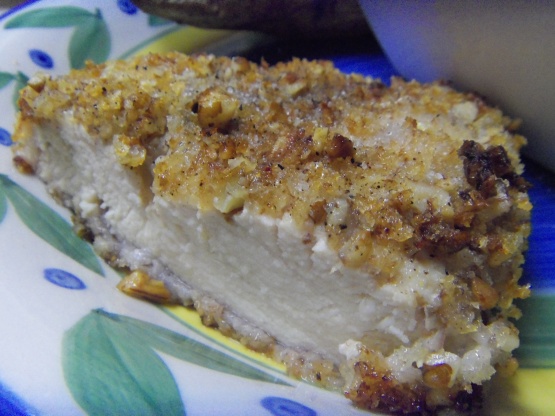 This is a yummy, easy melt-in-your-mouth chicken dish! I think Panko crumbs are the best thing since sliced bread, I use them all of the time. To toast the pecans, stir them in melted butter, then bake at 350 degrees for about 10 to 15 minutes. Watch closely so they don't burn. When turning the chicken, be as gentle as you can, I use a spatula. Cook time does not include the marinading time. This is from Claire Robinson, a new chef on Food Network. Check her out, I think she has some great recipes! This recipe can easily be doubled or even tripled, just keep the chicken in the oven on warm until all are fried. Hope you enjoy! Note: I have tried to correct the ingredients to say 1/2 cup of panko bread crumbs, but it won't change.

Loved it! Wonderful crunch, from the panko and pecans, tho I think the salt and pepper would be better used before the end of the recipe. Perhaps seasoning the panko/pecan combo would help to impart some of the salt/pepper 'love', a bit earlier in the recipe, for a little more 'oomph' at the end. I had huge breasts, so I reduced this for 1 really big breast. Because it was so big, after browning in the pan on both sides, I threw it in the oven for about 15 minutes, to finish alongside the sides I was serving; that cooked it perfectly! The buttermilk made it very moist. I will be making this again and again, as I usually have these ingredients on hand. Thanks for sharing, Scoutie!
Place chicken between wax paper and flatten each chicken breast with a meat mallet or heavy flat object to an even 1/3-inch thick.
In a shallow bowl add the chicken and the buttermilk. Cover and marinate for 1 hour in the refrigerator.
In a food processor, pulse pecans until finely ground. Transfer the pecans to a large rimmed dish and add the panko bread crumbs. Mix to combine well.
Remove marinated chicken breasts from buttermilk and shake off excess. Dip chicken in breading mixture, evenly coating both sides.
In a large nonstick skillet, heat oil. Add breaded breasts and shallow fry about 4 to 5 minutes on each side until golden in color.
Remove from oil to and drain on paper towels. Immediately season with salt and pepper and serve.