Shakshuka Yemani Basted Eggs
Debbwl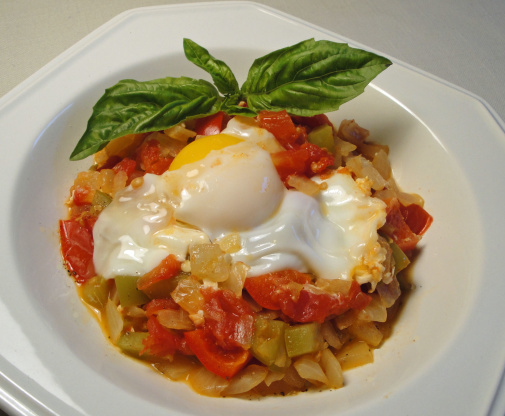 If you like Huevos Rancheros you will like this.

Wow! Directly from Dennis this morning at the breakfast table. :) "Tell the recipe author this is amazing! Give her 5 stars. Give her more if you can." Need I say more? This is really da bomb, as it is so easy for a farmer-girl to make before going out to start my day. I appreciate it, because you get so many kuddos from the husband, and it had a delightful aroma, and called him to the table in less time then a fuzz sticking to a fuzzball. Thx!
Must have covered pan.
Heat oil.
Add onion.
Add peppers.
Cook 1 minute.
Add tomatoes.
Cover; simmer 10 minutes.
Salt and pepper.
Crack eggs into sauce on the top.
Cover and cook until eggs are desired doneness.
Serve.