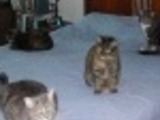 An Israeli dish served at Ori Apple, a hummus restaurant on St. Marks Place in Lower Manhattan. An "eat anytime" dish. From an article in the Wednesday food section of the New York Times.
1 tablespoon olive oil
1 medium onion, roughly chopped
2 garlic cloves, minced
1 teaspoon jalapeno, minced and seeded (or more to taste)
2 red peppers or 2 green peppers, roughly chopped
8 fresh plum tomatoes, roughly chopped
2 (28 ounce) cans Italian plum tomatoes, strained (peeled)
1⁄2 teaspoon hot paprika or 1⁄2 teaspoon cayenne pepper
2 teaspoons sweet paprika
1 teaspoon turmeric
1 teaspoon salt, more to taste
1 teaspoon fresh ground black pepper, more to taste
1 teaspoon sugar
1 cup canned tomato juice
1⁄2 cup vegetable broth
4 large eggs
za'atar spice mix, for serving
4 pita breads, warmed
Directions
Place large saute pan over medium heat, add and heat oil. Add onion and saute until lightly browned.
Add garlic, jalapeno and bell peppers, and saute 2 minutes more.
Add fresh and canned tomatoes, reduce heat to low and simmer for 5 minutes.
Add hot and sweet paprika, turmeric, salt, pepper and sugar. Stir for 1 minute.
Add tomato juice and vegetable broth and bring to a full boil. Reduce heat to low and simmer, uncovered, until mixture is very thick and has little liquid left, about 1 hour; stir occasionally to make sure vegetables do not stick to bottom of pan, and add more tomato juice or vegetable broth as needed. Taste and season with salt and pepper.
Gently crack eggs into pan, taking care not to break yolks. Simmer until whites solidify but yolks remain runny, about 8 minutes, or as per personal preference (I would put this under the broiler for a couple more minutes because I hate undercooked eggs).
Ladle equal portions of vegetables and eggs into 4 serving bowls. Sprinkle with zaatar to taste, and serve with warm pita bread.
Most Helpful
How did this get 5 star reviews followed the recipe exactly and double checked the steps and yet I got a disgusting substandard meal that just tasted like canned tomatoes yuck
This was really good and easy! My sister said it was better than the one her Israeli roommate makes =) I left out the jalapeno (didnt have one), but it was still nice and spicy...and i just used the reserved tomato juice from the canned tomatoes instead of opening a can of tomato juice. I let the sauce simmer away for almost 2 hours while i made everything else, and the flavors were just perfect (i didnt even change any of the seasonings or adjust them at all, which i ALWAYS do when following a recipe) Thank you so much! I've been craving this ever since my stay in tel aviv =)
Dinner tonight! YUMMM!! Thanks Kumquat!