Prep 15 mins
Cook 20 mins

SOURCE: THIS RECIPE COMES FROM SHADOWS . This is the sauce my wife and I used to give as Christmas gifts to friends and family, we had many repeat requests for it as a gift. Serves: 8
Directions
Place all ingredients in sauce pan except the onion and garlic.
Put onion and garlic in a blender and liquefy.
Mix with the other ingredients in the sauce pan.
Heat until boiling over low heat, let simmer for 20 minutes.
Good on all meats.
Most Helpful
I used this sauce for some pulled pork recently and it was very well-received by everyone. I actually made TWO batches (since I had plenty of pork), this exact recipe and a tweaked one -- the original recipe won out. There is something a little "different" (in a positive way) about this BBQ sauce although I can't quite put my finger on what it is. I CAN say that it really doesn't fall into any of the traditional categories of "City-affilliated" BBQ sauces such as Memphis, Kansas City, Chicago, etc. So, I'll just summarize by saying that it's an easy sauce to make, you'll not be disappointed with the mild but bright flavor, and it's a good choice if you're in a rut with your current barbeque sauceand you want to try an alternative.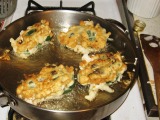 I think when you are barbecue lovers such as my husband and I are, you already have a pretty good idea what type of sauce you prefer. I love the southern sweet and tangy sauces while my husband prefers the NC vinegar based sauces. This recipe provides a flavor from both sides of the fence and satisfies both palates! Simple to put together and ready to use. To eliminate the need to liquefy the onion and garlic with a blender, I suggest using onion and garlic juices found in the herb and spice section of the grocery store. Thank you, Chef Shadows for sharing your family's recipe!

I made the sauce as directed a day ahead of time using Balsamic vinegar. It waas served as part of a pulled pork and rib cookout with 3 other sauces. At the time, this was my least favorite, but tasting it 3 days later it has definitely improved. Give 3 or more days for the flavors to meld. As made, I did not detect any spicy ness and it was quit sweet. Another one for the cookbook. Thank you.