Shabbat Breakfast Bread (Kubaneh)
basya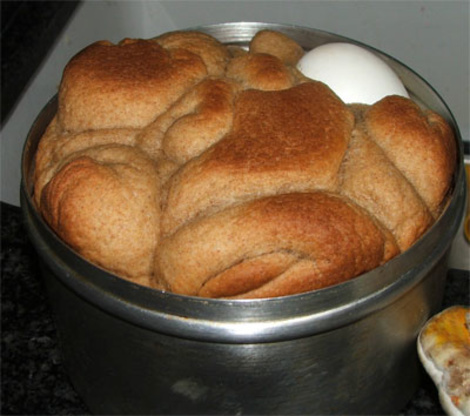 This unique Yemenite bread, which is baked all night in a tightly covered dish, is prepared for Sabbath breakfast or brunch. It defies all the usual rules for bread baking--it bakes at a very low temperature rather than at high heat, and it is baked covered, so it steams, rather than uncovered. And it is absolutely delicious. When I prepared this for a cooking class on Jewish breads in California, the students were wild about it. Before baking, you can put a few eggs (in their shells) in the baking dish; they come out brown and are a good accompaniment for the bread. In some families, this bread is served with sugar for sprinkling; in others, it is accompanied by Yemenite Tomato Salsa and Hot Pepper-Garlic Chutney.

Top Review by basya
It's taken me awhile to get this recipe just the way I want it. First, I use 1 cup of whole wheat flour and two cups of all-purpose. When I have good olive oil, I use that instead of butter or margarine. If I don't have good olive oil, I use an olive oil based margarine. I just melt the margarine in the microwave and use a pastry brush to apply it in the rolling up process. My real break through came with finally buying a kubaneh pot. I kept trying to seal a "wonder pot" (sort of like a covered bundt pan) or use a fairly well sealed pot. The kubaneh pot really does make a difference. I bought a small one (see the picture I submitted), and now I want a BIG one, hehehe. I change the pre-bake quite a bit now, also. I was having some rather serious stomach reaction on Sundays after eating kubaneh, and think the low heat just doesn't kill the yeast enough for me. So I bake the kubaneh for an hour at 150-180 Celsius (about 300-350 F), then do the double flip, and put it on top of my Shabbat hot water pot. We don't use an oven on Shabbat if it has a thermostat, which mine does. One of my Yemenite friends told me she puts her Jichnun on top of her water pot instead of in an oven, so I figured it would work for kubaneh. It does, as long as I've prebaked it well enough. My son likes brown eggs, but has refused to eat them if they're from a meaty cholent (Sabbath stew), so I hard boil some eggs, and put one in the kubaneh pot to bake and then steam all night. This recipe works really well for me now, and everyone loves the fresh kubaneh on Shabbat. I serve it with the fish and salads. Try it with hilbe (fenugreek), tahini, and zehug (Yeminite hot pepper "chutney"), or if you're eating dairy, enjoy it warm with butter! Thanks so much for posting this recipe. Very few of my Yemenite friends actually make their own doughs these days, so this a great resource.
Sprinkle yeast over lukewarm water and add 1 teaspoon sugar.
Leave for 10 minutes until yeast is foamy.
In a mixing bowl, combine remaining sugar, salt, 5 tablespoons margarine, and boiling water.
Stir until sugar and margarine is completely dissolved.
Stir in yeast mixture.
Add flour and mix with a wooden spoon until dough becomes difficult to stir.
Knead in remaining flour.
Knead dough vigorously on a lightly floured work surface, adding flour by tablespoons if necessary, until dough is very smooth but still soft, about 10 minutes.
Put dough in a clean, oiled bowl, cover with a damp cloth, and let rise in a warm place for 1 hour or until nearly doubled in volume.
Punch down dough, knead it briefly in bowl, cover, and let rise again in a warm place for about 1 hour; or refrigerate for 3 to 4 hours.
Generously rub a deep 2-quart baking dish with margarine or butter.
Divide dough into 8 pieces.
With a lightly oiled rolling pin, roll out one piece on a lightly oiled surface to a rectangle about 1/8 inch thick.
Spread with about 2 teaspoons of butter or margarine.
Roll up like a jelly roll.
Flatten resulting roll by tapping it with your knuckles and spread it with about 1 teaspoon butter, then roll up a spiral and place it in baking dish so that spiral design faces up.
Continue with remaining pieces of dough, placing them one next to the other and touching each other in dish.
If any margarine or butter remains, put it in small pieces on top.
Cover with greased paper or foil placed on surface of dough and with a tight lid.
Preheat oven to 225 degrees.
Bake 3 hours or until golden brown.
Turn out onto a plate, then reverse onto another plate and put back into baking dish, so it is now upside down.
Cover and bake another hour; or reduce oven temperature to 200 degrees and bake overnight.
(Bread can be baked ahead and reheated in its covered baking dish for about 45 minutes in a 225 degree oven.) Serve warm.