Sfenj - North African Beignets
diner524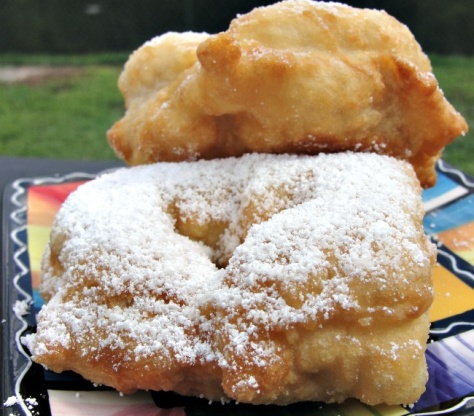 Originally thought to have been brought to Morocco, Algeria, Libya and Tunisia in the 18th century by traders from the East or across the Straits of Gibraltar from Spain, these sinful treats originally were served as breakfast items alongside vendors selling roasted lamb's head (another breakfast treat). Now available throughout the day, several of these golden rings are enough to satisfy any hungry person.
After trying the Beignets in New Orleans a couple of years ago, had to give this one a try!!! I made 1/4 of the recipe, which was 1/2 cup + 2 TBSP flour to 2 TBSP water, which didn't turn out to be a thin batter at all, was still crumbly and not all of the flour would incorporate, so I ended up doubling the amount of water, plus a little bit more to get a thinner batter as described in the directions. Then the recipe worked out as stated in the directions. The batter doesn't have any sugar, so it is more like the taste of bread, and then dusted with powdered sugar, so next time I would add some sugar to sweetened the batter for our tastes. Thanks for sharing a fun treat from N. Africa!! Made for ZWT 9.
Dissolve the yeast in 1/4 cup of the warm water and set aside.
Mix the flour, salt and rest of the warm water in a large bowl. Add the water and yeast mixture, and stir vigorously with your hand or a spoon until smooth. The dough should be too sticky to knead or shape, almost like a batter.
Cover the bowl, and leave the dough to rise for two to four hours, until double or triple in bulk.
In a wide pot, heat an inch or more of vegetable oil until hot. Dip your hands in water, and pull off a piece of dough about the size of a small plum. Use your fingers to make a hole in the ball of dough, stretch the hole wide to make a ring, and place the dough in the hot oil.
Repeat with the remaining dough, wetting your hands as necessary to keep the dough from sticking as you work with it. Don't overcrowd the rings in the hot oil.
Fry the sfenj until golden brown, turning once or twice (two to four minutes each side). Remove the cooked sfenj to a plate lined with paper towels to drain. Serve hot with powdered sugar or honey.
Serve the sfenj hot. If desired, dip the sfenj in sugar to sweeten them.