Sexy Fried Eggs for Sunday Brunch
Bergy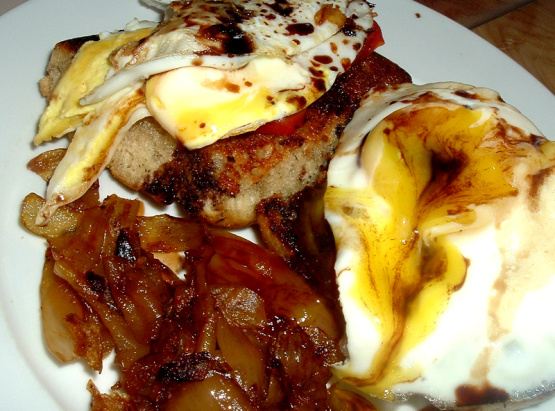 This is from Silvana Franco's book "Family" which I love. I made these for brunch yesterday and we loved them so much that we had them again today!

Top Review by Bergy
I love my Sunday Brunch and today's was extra good - This is a wonderful recipe. Just a few small things make it a special taste treat. I used an Italian Pannini bread for under the eggs, Roma tomatoes fried about 2 minutes each side and the eggs left soft in the center. Do not miss out on that dash of balsamic that is one of the flavor secrets. I served them with Crock Pot carmelized onions Mmmmm Loved my brunch thanks HappyBunny for posting
1

plum tomato, thickly sliced

1

slice thick ciabatta or 1 slice any other rustic bread

2

tablespoons olive oil

1

large egg

1

garlic clove, peeled and thinly sliced
1⁄2 small red chili, thinly sliced (optional)
1⁄2 cup snipped chives
1⁄2 teaspoon balsamic vinegar
salt and pepper
Heat a ridged griddle pan.
Lightly brush the tomato slices and bread with some olive oil.
Cook the tomato slices first, for at least 5 minutes.
When they are almost ready, toast the bread in the same pan until well bar-marked.
In the meantime, pour a little olive oil into a small frying pan and crack in the egg.
Allow it to set for a minute or so and add the garlic and chilli.
Cook for a couple of minutes, spooning the hot oil over the egg until cooked to your liking.
Place the griddled bread on a plate and quickly spoon the tomatoes on top.
Throw the chives into the egg pan and splash in the balsamic vinegar.
Season well, then slide the egg on to the tomatoes and drizzle the pan juices on top.
Serve immediately, with a good cup of tea!