Pamela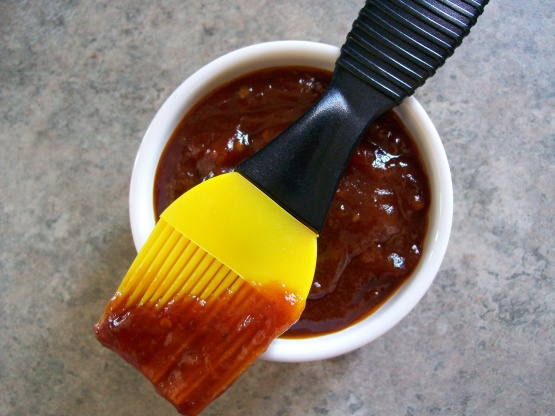 My mother made a version of this the whole time I was growing up. I "sexed it up" with a little spice and heat.

Top Review by Pamela
Great BBQ sauce but a tad hot for me. I used some epicure selections hot salsa mix for the red pepper mix for the peppers and it was still to hot for me. I used the chili sauce and it was a perfect consistency. Thanks for posting, I made this for Pick-a Chef spring 2007 :)
Melt butter in a small saucepan over medium-low heat.
Add garlic and sauté for a minute or two, until garlic is softened and aromatic, you can skip the mincing and go for garlic powder if you want to, but that is just a cheater's way out.
Add water and turn heat up to medium.
Swirl mixture or stir until integrated fairly well.
Add Chili sauce, Worcestershire sauce, brown sugar, chili flakes, and whatever other spices that turn you on.
Stir to combine.
Heat over medium or medium-high heat until sauce is thick and bubbly.
Serve over grilled chicken, veggies, etc.
Note: if using for a marinade, allow to cool completely first.