careydat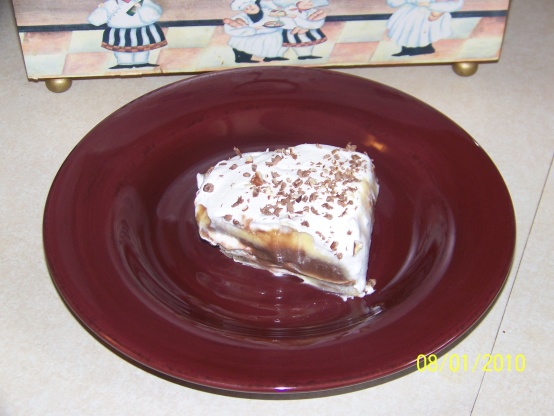 This stuff is sooooooooooo goooooooood! A friend at work made it one time for a luncheon that we had at work and couldn't stay away from this. This is one of my favorite desserts if not my favorite. It just melts in your mouth. You have got to try this one. You will not be disappointed.

This is an easy to make recipe--just didn't last very long....we really enjoyed it...will be great thru the summer months when it's too hot to bake. When DH asked what was for dessert & I told him...his reply was the "the pan is toooo small Honey!" Seriously we made it disappear quickly.
Heat oven to 350 degrees.
Make puddings separately according to the directions on box.
Set aside.
Mix cream cheese, powdered sugar and 1 cup of cool whip together and set aside.
Mix melted butter, flour and 1/2 cup chopped pecans together and press into the bottom of a 13 X 9 cake pan.
Put in oven until the crust browns (about 10 minutes).
Take out of oven and let cool slightly.
Layer mixtures over crust starting with cream cheese mixture, chocolate pudding, vanilla pudding.
Until mixtures are gone.
Top with the rest of the cool whip, chopped pecans and chocolate shavings from candy bar.