vrvrvr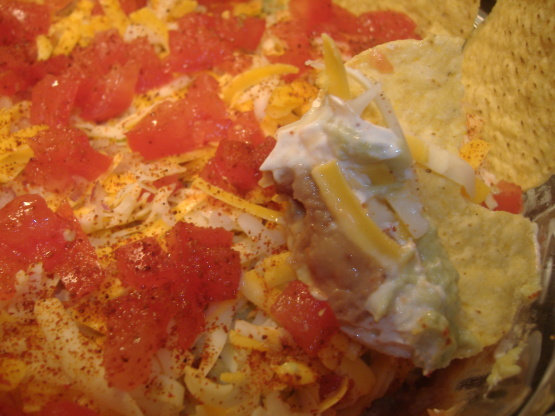 I found this recipe in the Chicago Tribune paper. I made it saturday night when my daughter dropped off her 6 kids so she could go to work. It was really good, my grandkids devoured this and begged me to make more. Unfortunately that would have included going to the store in the rain. "I don't think so". The only thing I left out was the olives, none of the kids liked the olives. Although they make for some funny times with the youngest putting them on her fingers. Hope you enjoy this.

Top Review by vrvrvr
Well, you can't go wrong here! I didn't follow amounts very closely, just put it all together and tasted as I went along. This is the kind of thing you set out on the table and watch disappear. I, also, left off the black olives. It tasted wonderful! It's kind of hard to photograph, I put a chip on the side of the dish with dip on it to show the refried beans and guacamole. Thanks for posting this recipe; it was just what we were looking for!
Spread refried beans in a shallow seving dish.
Mix sour cream and Taco Seasoning Mix until well blended.
Spread over refried beans.
Top with cheese, dollops of quacamole, tomato, onions, and olives.
Serve with tortilla chips.
Note: you can also use McCormicks Cheesy Taco Seasoning Mix.
Prepare this with 1 package of McCormick Guacamole Seasoning Mix.