PaulaG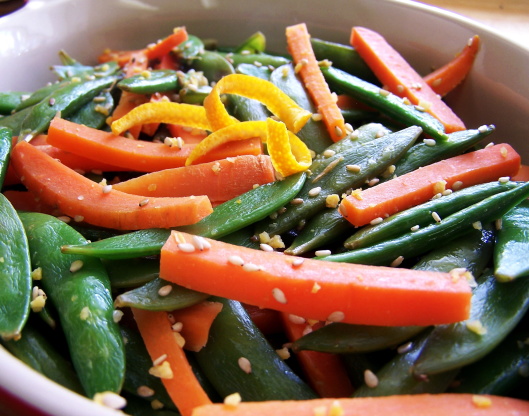 These are very orangey, light and yummy! Toss with soba or ramen noodles for a light lunch or dinner.
Top Review by PaulaG
I made this as well for the ZWT Vegetarian Low Fat Challenge. I did reduce the amount of seeds by 1/2; however, felt that the amount of oil was minimal and eliminating it would greatly reduce the flavor of the recipe. Also, sesame seeds and sesame seed products have valuable health benefits. This is a great dish with lots of flavor and very attractive to serve.
Steam the snow peas and carrots in the orange juice until tender.
Transfer to a bowl and add sesame seeds, oil and orange rind.
Toss to coat.