Sesame Shrimp Hearts With Passion Sauce
jenne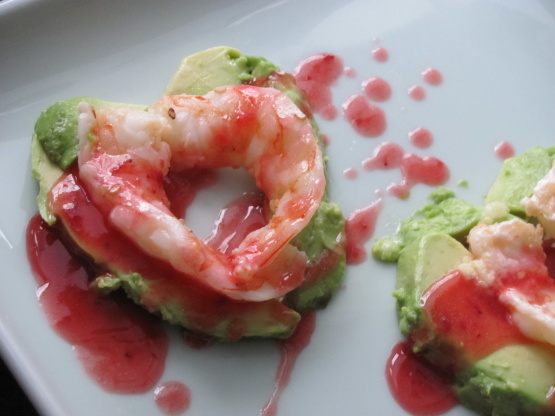 DARLING recipe received in an email from makinglifebetter.com. This is SO delicious and super fast to throw together. You totally don't have to make them into hearts, but they do make a great meal for your anniversary or for Valentines Day :) I have changed the recipe a bit, as you don't need near the butter they called for nor do you need near amount of sauce for the shrimp. I also used sugar free jelly with no problems!

I served this as a starter for my dinner party last night. Everyone really enjoyed it. I will make this again with these changes, because I wanted more prawn i will use whole precooked prawns with fresh lemon juice on them and I will add some ginger into the sauce. Thanks
Preheat oven to 425°. Slice down back of shrimp, almost completely through with small knife. Gently spread and flatten.
Melt 4 tablespoons I Can't Believe It's Not Butter!® Spread in small saucepan over medium heat, then stir in ginger, citrus juices, salt and pepper. Dip each shrimp in the butter sauce and arrange shrimp cut-side up on lightly greased baking sheet. Bake 4-5 minutes or until shrimp turn pink.
Meanwhile, heat remaining 2 tablespoons Spread, jelly, vinegar and hot pepper sauce in 1-quart saucepan over medium-low heat, stirring frequently, until jelly is melted. Strain, if desired.
Arrange shrimp in heart shapes on sliced avocado, sprinkle with sesame seeds and drizzle with sauce to serve.