CaliDi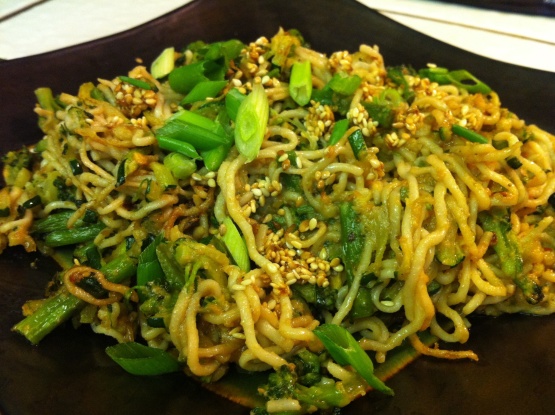 Easy and fast Asian-style lunch. Feel free to add more or different veggies, I usually do!

We enjoyed this alot. I thought it needed a little sweetness, so I added some coconut cream, I also had a lot more veggies to add. I am guilty of altering recipes, but, that is where my creative juices fly!. Thanks for the basic recipe. :-)
Heat skillet over medium-high heat. Spray with cooking spray.
Whisk together peanut butter, soy, red pepper flakes and sesame oil. Set aside.
Add squash slices to skillet and saute until tender.
Add drained shirataki noodles, continue to saute until noodles are hot.
Reduce heat and pour peanut butter mixture over noodles and squash. Cook briefly until sauce is hot and bubbly.
Transfer to serving bowl and top with toasted sesame seeds and green onions.