Nikoma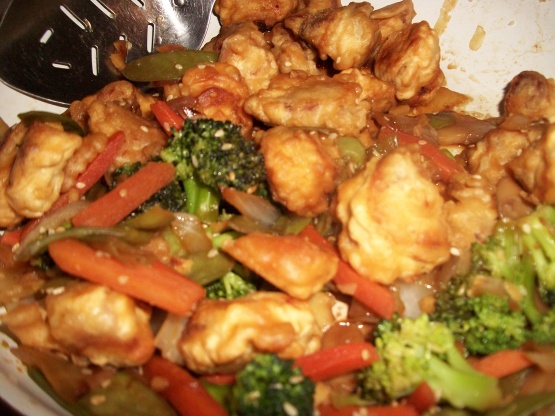 I was craving sesame chicken and came up with this.

Didn't have any yellow squash or zucchini so we added broccoli and mushrooms. It took longer to make than expected, and the seitan was kind of a pain, but worth it. The veggies and sauce were our favorite parts so next time I may skip the seitan all together. Served over brown rice.
1⁄4 cup flour

1

cup tempura flour
ice water

1

(8 ounce) boxwhite wave seitan
hot oil (for deep frying)

1

yellow squash or 1 zucchini, chopped matchstick size

1

small onion, chopped
1⁄4 cup ginger, finely chopped

1

carrot, shredded
1⁄2 cup teriyaki sauce (or 1/4 cup soy sauce and 1/4 cup of natural sweetener)

1

teaspoon sesame oil

1

tablespoon oil
salt and pepper
toasted sesame seeds (to garnish)
cut seitan into bite size pieces.
in a plastic bag, evenly coat seitan with flour.
mix tempura flour and ice water in a bowl until you get a smooth batter.
dip floured seitan in batter and deep fry til crispy.
place seitan on paper towel to drain excess oil.
In a wok or large frying pan, heat oil and stirfry all shredded vegetables.
add teriyaki sauce, sesame oil and salt and pepper to taste.
add seitan.
serve with rice and sprinkle sesame seeds.