Sesame Seed Cookies - India
Nif_H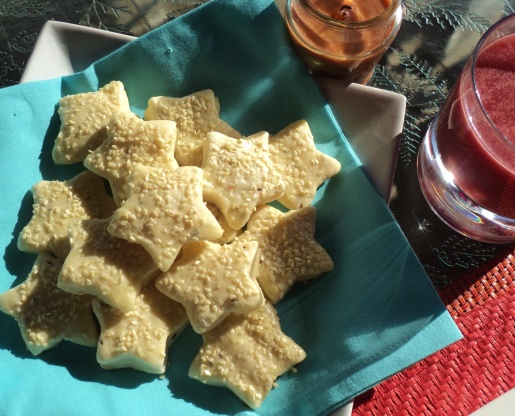 This recipe has been submitted for play in ZWT8 - India. The recipe was found on Indian Food Forever. Next to Cardamom cookies, Sesame Seed cookies are one of my top three favorite cookies. This recipe promised to be tasty. I can't wait to try these. I'm sorry I haven't tried these yet and don't know how many cookies it will make.

Top Review by Nif_H
I love these cookies!!! I had to add about 1/2 cup of extra flour and then the dough was incredibly easy to work with. The caraway seeds were so nice in this and sesame seeds are always a great addition. You could replace the seeds with something else in this dough - it can easily be sweet or savoury. The only problem is that the recipes states baking soda but the instructions state baking powder. I figured that it was the baking powder! Made for ZWT8. Thanks Baby Kato! :)
Preheat oven to 325 degrees Fl.
In a large bowl, sieve the flour with salt and baking soda.
Add sugar, butter, 2 eggs, caraway seeds and blend well.
Add the milk a little by little and knead to a smooth dough.
Roll out on a floured board 1cm thick and cut out with fancy cookie cutters.
Brush with remaining well beaten egg and sprinkle heavily with sesame seeds.
Place on a greased baking sheet.
Bake in a 325 degree oven for 10 minutes.
Cool and enjoy with a good cup of tea. .