Boomette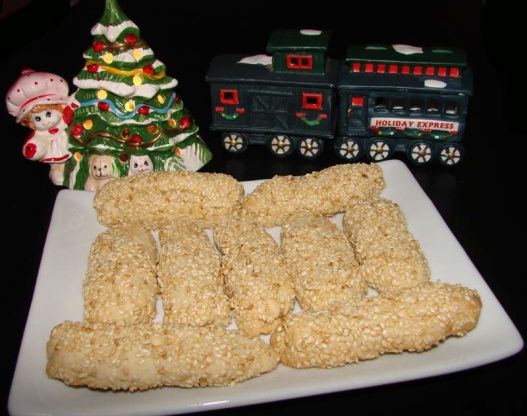 Though these are reminiscent of the traditional Greek or Italian cookies of the same name, the recipes originates in the US south and traces its roots to Africa. Nutty toasted sesame seeds are included in the dough as well as serving as the crispy coating. They are now commonly served at Kwanzaa celebrations. I have not tried this yet but am posting for ZWT 3.

These are DELICIOUS, light and slightly crunchy; I am consuming two warm ones as I write. I followed the recipe with these exceptions: I added another 1/4 c. of sugar, since one review said they were "not too sweet" -- wanted to be sure they were sweet enough to complement the sesame seeds; and for the shortening, I used coconut oil, which also adds a flavor note to the seeds. I use the brown, unhulled sesame seeds for the added nutrients, toasting them in the oven on a cookie sheet for about 10 minutes. - More batches of these terrific cookies are destined for holiday gifts and sharing!
In a large heavy skillet over medium heat, toast sesame seeds until golden brown, shaking skillet and stirring frequently to keep them moving. Remove from heat and set aside.
Measure flour and remaining ingredients into a large mixing bowl.
With hand-held mixer at low speed, beat until well blended, occasionally scraping bowl. With spoon, stir in 1/2 cup sesame seeds.
Using about 2 teaspoons of dough for each cookie, shape into ovals about 2 inches in length; roll in remaining toasted sesame seeds. Place ovals about 1 inch apart on ungreased baking sheets. Bake in preheated 350° oven for about 20 minutes, or until lightly browned. Remove cookies to wire racks to cool. Store in tightly covered container for up to 1 week.
Makes about 36 sesame seed cookies.